Independent Food Distributor (IFD)
In response to PM's Self Reliance India initiative, popular F&B brand Combo Jumbo fondly called CJ have created a fresh & hygienic food distribution business scheme for the previously low income now unemployed individual. Promoted by Limited Liability Partnership venture Future Flavors, CJ runs multipurpose restaurants/Kitchens compiled of Fine dine, Cafe, Banquet, QSR & Kiosk in and around Navi Mumbai.
The objective of this essential start up is to provide an independent business opportunity to the needy with adequate sales guidance & marketing support.
Registered sales representatives can buy CJ's snacks-starters like Veg Sandwich, Bread Pakoda, Momos, Samosa, Rolls, Wraps, Pizzas, and Burger etc. in quantity for a low price and further sell these popular veg foods per plate with free Sauce, Chilli flakes, Chutney and variety of toppings in retail market or direct to the consumer at a fixed selling cost adding their sales margin.
CJ party pack & CJ family pack of tasty meals & delicacies will be an add on feature to sell online as well as offline for these vendors. It will be very convenient for all age group consumers to pick up their daily snacks/meals delivered on demand. These fresh food product will be made & packed on daily basis for retail distribution.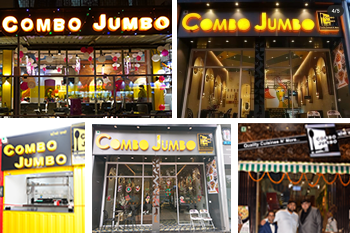 Most produce needs sanitized packaging. Our packaging serves three basic purposes. First, it provides a convenient way of handling and transporting produce. Second, it provides protection for the produce. Finally, packaging can be used to divide the produce into convenient units for retail sale and to make the produce more attractive to the consumer, thus increasing value for the money.
This innovative venture will most definitely prosper our countrymen and will certainly help to boost Nations economy. IFD scheme will encourage the morale of 'Atmanirbhar Bharat'.
The sole purpose of the concept is to support self employed vendors who can feed consumers with safety, dignity & pride.
Once registered as an independent food distributor with us, vendor will be entitled get all the required backhand support as listed below:

FSSAI approved organized QSR & kitchen back up
Lab tested Variety of fresh cooked food items on daily basis
Choice of items in bulk quantity with special rates
IFD's personal protection Kit with ID card & Uniform
Cell phone with billing software & payment options
Sanitized Hot container & food grade packaging material
Disinfected disposable bags/ boxes/plates/spoon etc.
Online & offline Marketing support with digital monitoring
Small finance - Loans for two wheeler / Bicycle / Material purchase
Free Health & General Insurance for first quarter
Free lunch OR dinner once a day for first month only
Download IFD Rate Card
Why Us
Choose CJ IFD for daily income

Daily Income

Maximum Profit

End to end Support
Gallery
Come Join us for a secure future
Please fill the form below
Fill the form below and apply to be a CJ IFD
Now you can have your cake and eat it too!
Get in on the deal of a lifetime. Apply to open your own Combo Jumbo outlet today.
Apply Now